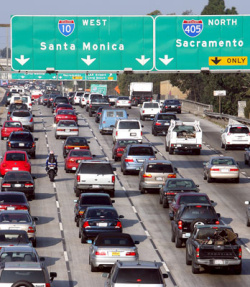 [Note: this post is part of a series of live updates chronicling the Grammy experience for first-time nominee Gungor.]
Two cities, two challenges. Gungor manager Calvin Nowell arrived in La La Land last night, while the band is still in Denver, scheduled to arrive at 1:30 this afternoon. Nowell was met with a fairly expected difficulty; Gungor's was unanticipated.
Everyone knows traffic is bad in Los Angeles, but even the locals knew this would be a particularly clogged weekend. The Grammy Awards are more than just the single Sunday night ceremony, and next weekend's NBA All Star Game, also in L.A., is far more than just the one game. Folks are arriving for both in spades. The L.A. pretentious bling meter might set an all-time high. No sporting event carries with it a higher quantity of garish tailored suits, audacious jewelry, and ostentatious entourages than the NBA All Star Game. And, well, you've seen the red carpet arrivals at the Grammys. So, Friday night traffic was crazy. Extravagant, but crazy.
Back in Denver, on the far more humble end of the extravagance scale, a girl just wanted a nice dress to wear to the Grammys. Perhaps the tailor did not know it was not just any dress, but a Grammy dress, and the tailor thought very little of closing early last night. So it was that when Michael Gungor went to pick up his wife Lisa's dress, the shop was closed. They have an early flight this morning, so if the shop does not open in time, Lisa's dress will stay home. Yes, there are far greater concerns in this world, but even I, a sometimes-slovenly male, imagine a dress for such a special occasion is a pretty big deal. So, let's hope the tailor decides to get an early start at work today!